By Jackie Kang
Grade 7, Age 12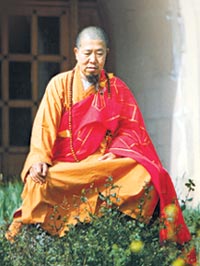 When the Venerable Master Hsuan Hua was young, he followed his mother's example became a vegetarian. He also recited the Buddha's name and soon became a righteous and heroic boy. Then at age 11, upon seeing the neighbor's dead infant, the Ven. Master also became aware of life and death situation, and quickly wanted to leave the home-life. Well right now I am 12 years old and upon reflecting my life, I am investigating my connection to Buddhist practice, wayplaces, and the Ven. Master from my family's affiliation to DRBA/CTTB.
So far, I can relate to him only that I also have been a vegetarian since birth and followed my mother since a baby to attend various ceremonies in wayplaces and around the world that are associated with DRBA. Ever since I was born in Hong Kong, I soon traveled with my mother at 3 months old to Singapore, Indonesia, Malaysia, China and then afterward to Los Angeles and San Diego for my formal studies.
Like the Venerable Master, I am very fortunate to have similar condition and blessings that allowed me to travel at a young age to be friends with good knowing advisors I met at various temples. I am also very fortunate to have an older brother (an architect and a high school teacher) and older sister (an eye doctor) who also are vegetarians since they were 10 years old, to watch over me and guide me to live a proper life. They, too, were influenced by the stories of the Venerable Master and are practicing Buddhists who are cultivating compassion, kindness and giving in their day-to-day affairs. I guess it helps make it easier to emulate a great person like our Venerable Master when I have a good family and good friends along the way who are also inspired to do the same; to live a proper and meaningful life to benefit all living beings.
When the Ven. Master turned 12, in order to make up for all the faults he had done, he repented to his parents and the villagers by bowing to his parents, the villagers, the heavens, the earth, to the Buddha and even to the bad people every morning and evening. As he did this everyday, everybody came to respect him and they all liked him. Although I have not bowed everyday as Ven. Master did, I do practice daily incense, offerings of clean water and light the oil lamp, and 3 bows every morning when I get up and every night before I go to sleep. I was also inspired by my older brother and sister when they were my age around 11 years old, that they bowed to the Buddha statue at our old house in Los Angeles 500 times each morning and 500 times after school for more than two years. They were inspired by Buddhist monks at first, who visited our house and later they said that they became very addicted to the practice and began jotting down the daily bows on a calendar that made them more serious. I hope one day I will become more serious like my brother, sister and the young Ven. Master did because they all said the bowing practice brings much benefit and make your life more simple and less baggage.
I'm only 12 years old but I did study and read further of the Venerable Master at age of 15, when he took refuge under the Venerable Master Chang Zhi. That year he began to attend school and mastered the Four Books, the Five Classics, the texts of various Chinese schools thought, and fields of medicines, divination, astrology, and physiognomy. I do not know when I will become as diligent in studies like the young Ven. Master did but I know I should be grateful to be able to attend the Developing Virtue Boys' school in CTTB. Hopefully in the next 3-5 years, I will gather more focus and develop more energy to help study and cultivate all good studies just like Ven. Master did. I do want to emulate the young Ven. Master when he grew up in small villages (like Talmage).
I am very lucky to have started out like Venerable Master Hsuan Hua with a strict Buddhist mother, reciting the Buddha's name, and being life-long vegetarian. I know I have to be grateful for that. I am also very happy that the Ven. Master created a campus that has schools, a Buddha hall, dining hall and residences. We are all very lucky that he had left this world with wonderful teachings for children like us to learn, even though we didn't get to meet him. However, we will be able to know him through his teachings, books, biographies, and he will never be gone, for he will always be in our hearts forever. I will continue to follow his teachings and do the best I can for the world.
Amitofo!