By Vincent Khaw
6th Grade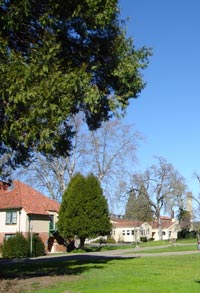 CTTB was like heaven to me when I was little. Since I was young, my parents wanted to send me here when I grew older.
During my early years, I was a totally different person. Before, everything I did was pointless. I didn't concentrate during class; and, at night I would play computer till midnight. Therefore, my parents decided to send me to CTTB.
When I came I had no interest in this place and my English was horrible. Back in Malaysia I told my friends about studying in the U.S, and they laughed till they couldn't stop. After staying here for two weeks, I finally inhaled the true fresh air of this place and everything became clear. I learned things that would benefit my life forever. For example, the Standards for Students has the teachings of sages that teach us to respect elders.
There are a lot of things that I don't understand and there are things I have to learn. So I must work hard to learn my subjects. Living in the dorm is a good place to learn new things. Before, I would depend on my sister to help me live my life. But, now I have learned to become independent, so I can let go of dependence. Another thing I learned in the dorm is to have teamwork, or "synergy". We are all one big family of boys, so we use synergy to accomplish our missions! Life gets dull in the dorm sometimes, because there are none of the things we like. For example: computer games, music, and television.
In my opinion, this school is one of a kind, because 60% of our students are international students, so I can learn their cultures and traditions. The school also taught me many different kinds of virtues. It also taught me to control my anger. In CTTB everyone has to eat vegetarian food. People complain about lack of nutrients, but the high school basket ball team still got 1st place in San Jose. Therefore, the complaint about the "lack of nutrients" is not true.
Sometime life is hard. But once we overcome those hardships, it will benefit us. Those hardships taught me lessons that a public school could never teach me. If we continue to teach ourselves, then we will never regret in our life again.