By Susan Ngo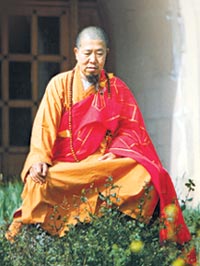 Dharma Master Hua has provided us many opportunities to improve our lives and have a whole new aspect and view on life. He is a wise, inspirational, and influential Dharma Master. Master Hua has given us the Avatamsaka Vihara Buddhist Monastery Temple to spread his wisdom and knowledge about the importance of life and the Buddha's teachings. When I first came to the temple I was about seven years old and have learned a lot in the past six years. I came to this temple with little knowledge about Buddhism. I am very thankful to be one of those few, fortunate people given this lucky opportunity to enhance in the learning of Buddhist religion. Not only that, I am also able to improve upon my Chinese speaking, understanding, reading and writing skills.
Over the past few years, I have taken in a vast understanding of Buddha's teachings. I have learned to be disciplined and to help others when they are in need of help. After learning all that I have at this temple, I became more knowledgeable and aware of the different stages of enlightenment and life. I learned the true meaning behind everything such as the act of kindness. I have also learned the ten good deeds which are no killing, no stealing, no sexual misconduct, no lying, no double-tongued speech, no abusive speech, no irresponsible speech, no greed, no hatred, and no delusion. This taught me what I should not be doing because it will affect my future life. Everything I learn from the temple becomes very useful in the near future. It will affect everything I do as a person and how I act towards others. To excel, to learn its deepest meaning, to have a better understanding and by that, I would have less suffering.
I have two classes; a morning class and an afternoon class. I went from the little class and now am presently in middle class. I learn Chinese in both classes although the morning class teaches about my religion while the afternoon class teaches only Chinese. I still learn some Chinese in the morning class from reading different sutras. Ever since I started going to this temple, I have accelerated in learning the Chinese language.
In conclusion, I would recommend others to come to the Avatamsaka Buddhist Monastery Temple if they wish to gain more knowledge on the teachings of Buddha. It will also be in honor of Dharma Master Hua.