By Vanessa
grade 5 from Canada, B.C.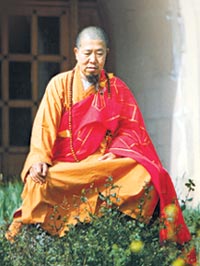 My mom has taught me Buddhism from Master Hua. She has also seen Master Hua in real life and I haven't, though I have and always will treat Master Hua with the utmost respect because I love to read and I have read some of Master Hua's books, and I have learned a lot from them. I have always known Master Hua as a Chan Master, unlike me a person who has no samadhi. Though I have always envied Master Hua, but I also knew that Master Hua had worked hard on studying Buddhism.
One of the books I read by Master Hua was The Chan Handbook. I was trying to meditate without a single false thought. It was one of the hardest things I ever did. I was really surprised when I read the book it seemed so easy. He has also taught me morals of the stories, and verses he has said. I am very grateful to have Master Hua as my teacher. He teaches us Dharma and makes miracles happen, he has saved and cured illnesses of countless living beings.
Master Hua has left us a place called City of Ten Thousand Buddha. When I was in grade four, I was very happy there. Why? Because in school everyone thought I was different, I had friends in CTTB, because everyone was a Buddhist there. It was like a normal community, except everyone was a vegetarian. I learned a lot there and had a lot of fun there too, so now I don't care if people tease me. I have learned that as long as I think I am doing the correct thing to just do it, don't think "If I do this would they tease me, should I do it or not?" I'm tired of worrying, and I'm just going to forget the past and be happy, because I don't care what people say about me.
I thank Master Hua for teaching me sutras, Dharma, and Chan. I also thank my mother for letting me become a buddhist, a vegetarian and she was the one who encouraged me to write this essay. I am glad I learned a lot in CTTB, at home, in monasteries, and even while writing this essay I am learning a lot. I hope everyone can study hard and cultivate in Buddhism and learn more Dharma in the future and write an essay about Master Hua too. I thank whoever has taken the time to read my essay and I hope everyone can read some of Master Hua's books. He has many books written in English, Chinese, and other languages, hope you enjoy reading them as much as I did!
AMITABHA !