By Chris Yiu
5/3/2010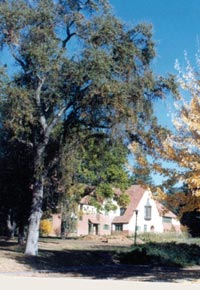 Up until 6 years ago, I had barely heard of the Venerable Master; I only heard him mentioned as a mere afterthought during lectures about my master, the Venerable Grand Master Wei Chueh (they shared a common teacher, the Master Hsu Yun). But when my mother decided to leave home to become a nun at the Chung Tai Monastery in Puli, Taiwan, I was stranded. My father, whom my mother had divorced four years previously, was working a full-time job at a major contracting company and had no time to take care of me; my oldest brother was living with my grandma in San Francisco and was struggling to be independent; and my second eldest brother was attending UC Berkeley while living in a small studio apartment not fit for two. If my mother chose that moment to become a nun, I would be left without a home.
It was a miracle when a friend of the abbot of the Chung Tai Zen Center of Sunnyvale, David Yin, mentioned a relatively affordable boarding school in northern California run by the Buddhist monastery he frequented. My mother and I had been looking into other boarding schools as an alternative living situation, but none that we found were financially attainable. There was a new boarding school opening up in the monastery my mother was to be ordained in, but it was only up to the 8th grade and I would have been left without a school within a year. As soon as he remarked that the tuition and other fees of this school were well within our family's reach, my mother was instantly interested. She researched the school further through its website, and learned that an annual summer camp was held on-campus, both as a way to spread awareness of the school and to attract and test potential students. She decided to send me there for the two-week camp to let me see for myself whether I liked it or not.
The two weeks I spent at the summer camp were dry, hot, bug-ridden, and the best times I had ever had up until that point in my life. I even stayed an extra night – which my mother didn't approve of, since she had driven two and a half hours from home to pick me up – to hang out with my newly-made friends. Even then, I was reluctant to switch to another school for the next semester yet again. I had just moved to a new school, Sunnyvale Middle School, in the middle of a semester and was just starting to get settled in. But I realized that if I was going to let my mother fulfill her long-held dream of being ordained, I didn't have a choice.
So that summer my mother left for Taiwan to become a novice, and I stayed with my brother in his Berkeley apartment for a month. I admit, it was oddly liberating not living with my parents for the first time in my short 14 years of life, but it was also scary. I missed my mom. But I knew that she would be happier cultivating the Way than having to take care of me until I was ready to leave the nest.
I expected to be going to school with my fellow summer camp-mates, but when I got here I knew only two people (one of which was a counselor from summer camp who I hadn't really noticed before, and the other a student one year younger than me). But the teachers were nice, and the other dorm students warm and inviting; soon, I was one of the pack.
Ever since then, my experiences here at the City of Ten Thousand Buddhas and the Developing Virtue Boys' School have molded me into what I am today; I am no longer the naive geek with few friends and even fewer social graces that I was five years ago. Now I am a naive geek who has managed to garner a modest following of friend/worshipers (I am still just as socially clumsy, though).
I realize now that I owe all that I am right now – a moderately successful high school senior sitting in this hard metal folding chair in the Boy's School computer lab pounding out a mediocre essay in English for my Chinese class (yes, this really is for my Chinese class) – to the founder of our school, Venerable Master Hsuan Hua. Yes, I said it. So what if it sounds as cliche and mushy as a middle school rendition of Romeo & Juliet? It's true. If the Venerable Master hadn't thought of instilling in the younger generation a sense of goodness and then developing that very sense into virtue 50 years ago, I'd most likely be a run-of-the-mill high school geek; commonly ignored by public school cliques, and pale from lack of the doctor recommended allotment of sunshine-attained vitamin D. But his noble work and the school that resulted is what has enabled me to become who I truly am; the unique high school geek – in the sense that I am one of a kind in the school (how many geeks can say that and actually mean it?) – with a unique sense of humor. In public school I would have blended in with the rest of the crowd and never discovered what was under the geek-requisite bottlecap glasses and tan-deprived skin. I would never have opened myself to my family, and would have never gotten a chance to mature, develop, and grow as I have here.
I know that I will never forget this place – both the school and CTTB as a whole – once I graduate at the end of this year. For the past five years, these 400-something acres have been my home. I am here 8 or so months out of the year, and during the other 4 months I do nothing at home but eat, sleep, and rot my eyes with constant electronic stimulation. This is the only place that I can read in peace and concentrate singularly on one thing at a time; it is the only place where I can reflect upon myself. The world today is too electronically driven; at home, something is always blazing in the background, be it the TV, the computer, or what have you. I am never at rest; I am always doing something. But in the dorm, there is plenty of time to do what I want without being a slave to the electric demon. I can lay on the "grassy" lawn (not enough grass to leave that word without quotation marks) and fall asleep in the sun, I can whip together some revolting dish that I would never even think about at home just to curb my insatiable hunger; the possibilities are endless.
My situation will only deteriorate when I leave for college. I may progress from the status of slave of the Electronic Age to a complete and total slacker. Without a sanctuary to get my much-needed time away from the dreaded Internet Monster and Video Game Abomination, my soul will be devoured alive and my body will be left a lifeless husk in front of my flickering computer screen. But whenever I am close to my electric demise, I will remember what I learned here.
This environment has taught me most of what I know at this very moment; I learned all my life skills in the past 5 years of my life. Now I can leave the sheltered environment of CTTB and go out into the real world, confident with my dorm-acquired skills that I will not be an everyday nothing going with the flow on the street. I will stand out from the crowd, and I will hold my head high, because I come from the select regimen of the Developing Virtue Secondary School Alumni. If I can survive in here, the real world is a fleck of dust on my shoulder.