By Solene Dam
May 26, 2010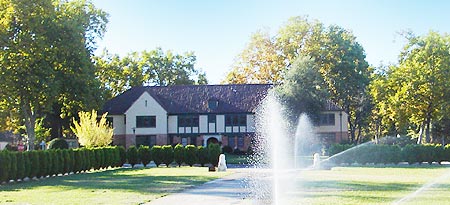 I am the one who can make the change. Staying at CTTB, I learned to be more compassionate with new experiences that I have encountered, I learned from my teachers and I learned to be kind to everyone.
Before I came to DVGS, I did not know that left home people had a life. In France, whenever I see nuns or monks I always thought that they had no freedom. However I was mistaken. Last week, my classmates invited teachers and nuns to eat at Oco- Time. We wanted to eat together and had fun. It was a memorable lunch time because we were like a family. Every time I talk to any nuns, I have a connection with them because I can tell my secrets or my family problems to them. Whenever I don't feel good, they will be the ones who encourage me to continue to believe in myself. They will listen to me and give back good pieces of advice. They treat us like their own daughters. I really admire the teachers because they put students as their first priorities whenever we ask for something. Our conversations are always full of laughter. When we eat lunch, the teachers like to listen to our story. We also share our food so everyone could have a chance to try the food. Moreover, during those years, when I needed extra tutoring, they will find time to teach the lessons that I did not understand. Sometimes, when I was sick, the nuns took care of me. They would walk inside my room and ask if I was alright. They also cooked medicine, food and made sure that my classmates update me on with the homework. I appreciate how people treat me because they will never leave me behind. In return from all those acts, I would like to be kind to people and give them a chance to change their mistakes.
During my stay at CTTB, sutras also play a significant role because sutras are symbolic and they help me feel better. Sometimes, when I feel sad, upset or don't have the mood, I will attend any Ceremony and then I will be content. Even though many of my friends don't like to pray, I have a very strong desire to pray. After reciting any sutras, my mind is more focused and calm. At home, I don't often read sutras or recite any mantras because I don't have the time. However, in this place, it is special because even though I have plenty of homework, sometimes I still attend the ceremonies. For instance, this month is The Ten Thousand Buddha's Repentance; and I especially try to attend the session because I want to do it for my mother. This year, she is not able to come and attend the session because of my dad's sickness. Every year, many people would take the airplane to come to CTTB to either be volunteers or to pray. I will contribute my study hall period to pray. After praying I feel more released and free. Reciting the sutras made me a confident person who knows what to do. It also affected my studies because I am less confused than before. Through reciting sutras, I become less anxious about things.
Community service is also a big part of my CTTB experience. Every Sunday, I go to the kitchen to help to cut vegetables. To be candid, at the very beginning, I was not very happy to wake up early in the morning and to contribute my whole morning in the kitchen. I wanted to do my homework like the other girls. However since I am on financial aid, I was assigned to go. Some other girls also went with me. But after helping the nuns and aunties that were working so hard in the kitchen, I realized that I can be useful. Now, I am very glad to wake up and help them because they need more people in the kitchen. If there are more people working in the kitchen, there is less work to do and this is be a positive aspect because they will finish their work faster. Even though I am slow at cutting some vegetables, people are always content to see students helping them. The more I work in the kitchen, the more I appreciate the people who cook the food for us. Also I really enjoy it because I have fun and I can learn how to cook at the same time.
Moreover, I learned that doing community service is more important than studying all day long. Doing some volunteer work, either in the senior center or Mexico I acquired new experiences interacting with complete strangers, something that I would not have encountered at home. I went to Mexico to participate in a volunteer work with an association named Corazon. I went with Heng Yin Shr and some other girls to volunteer to build a bathroom house and to paint a house. It was a new world because I had to talk to them in my broken Spanish. Also it was hard to use hammer to take out the nails from the wood. I learned that if I want to hit straight with the hammer, I had to hold it from the very bottom. I realized that even though people did not have a lot of money they are very happy with what they have. Therefore I am very thankful with what I have. CTTB made me a different person because now, I feel more mature and I am not afraid of the things outside of CTTB.
I will never forget how CTTB is a peaceful and lovely place to stay at. After staying here four years, I don't regret anything that had happened because these new experiences made me a new Solene. I very appreciate how people welcome me and treat me like I am part of the family. CTTB will never leave someone behind, but always find a way to help people.