周親蓮居士講於2023年9月5日星期三晚 萬佛聖城大殿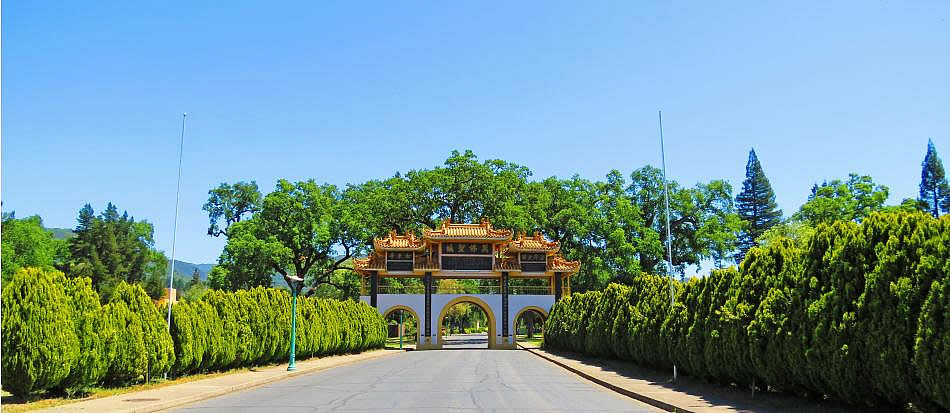 諸佛菩薩、宣公上人、各位法師和善知識,阿彌陀佛!今晚輪到親蓮和大家結法緣學習講法,如果有講得不如法的地方請大家慈悲指正。
All Buddhas, Bodhisattvas, Venerable Master Hua, all Dharma Masters, and good-knowing advisors, Amituofo! Tonight is Qin Lian's turn to practice tying the dharma affinity with the assembly. If there are any places where I don't speak in accordance with the Dharma, please kindly correct me.
我想講一下我來萬佛聖城的因緣。不知不覺帶著兩個兒子來聖城讀書已經第十年了。老大今年已經快十六歲,小的也快十三歲了。時間過得很快,弟子慚愧到現在才敢上臺做法布施。我是一個很普通的人,生活也過得很平凡。但是我有時候會對著鏡子問自己是誰?來這世界做什麼的?可惜一直沒找到答案。
I want to speak about my affinity for coming to the City of Ten Thousand Buddhas. Without knowing anything, I brought my two sons to the Sagely City of Ten Thousand Buddhas to study and this year is the tenth year. My eldest son is almost sixteen years old this year, and the younger one is nearly thirteen. Time has gone by quickly, and, as a disciple, I am really ashamed that I now finally dare to come up on stage to practice the giving of the Dharma. I am a very ordinary person, and my life, so far, has also been a very normal one. However, I sometimes look in the mirror and ask myself: who am I? Why am I here in this world? Unfortunately, I haven't found the answer yet.
離開家人漂洋過海孤身一人從中國來到美國讀書,一邊讀書一邊做餐館的工作認識了我的同修。接著結婚和生孩子,一切都是那麼的理所當然的人生,直到同修的往生才讓我找到了答案!
I left my family behind, crossed the ocean alone, from China, to come to the United States to study, and worked in a restaurant while pursuing my education. It was during this time that I met my husband. We eventually got married and had children, and everything seemed to be going as expected in life. However, it was my husband's passing that helped me find the answers I had been seeking.
記得那一天同修如常的出門口上班去,沒多久就接到醫院打來的電話說同修車禍需要我馬上去。醫生見到我第一句話就是對不起,說同修車禍撞到了頭部嚴重受傷,搶救了一個多小時救不回來。屍體已經送去驗屍房檢查死亡原因,暫時不能去見他,因為剛好是星期五加週末要三天後才能叫殯儀服務運回他的屍體。
I remember that day when my husband left for work as usual. Shortly afterward, I received a call from the hospital, saying that my husband had been in a severe car accident and needed my immediate presence. When I arrived at the hospital, the doctor's first words to me were an apology. They explained that my husband had suffered a severe head injury in the accident and despite over an hour of efforts to save him, he couldn't be saved. The body had already been taken to the morgue for further examination and an autopsy was also done to determine the cause of death. I couldn't see my husband right away because it happened to be a Friday, and with the weekend ahead, it wouldn't be until Monday, three days later, that the funeral services would be able to bring my husband's body back to me.
三天不能見同修的最後一面,他已經死了!我聽完後是不敢相信和接受這個事實。一切發生得太突然,感覺自己腦子一片空白。同修的姐姐也剛好趕來,哭到累讓她的同行朋友送回家。我也沒有什麼反應,只是覺得一切都不是真的,堅持自己開了兩個小時的車回家,在車上看著什麼也不知道的孩子睡得很香。回到家裹知道姐姐把這消息告知了她的父母。醫院再打電話來問我可否把同修的身體器官捐贈。我跟醫院講讓我考慮一下明天才答覆。
Since I couldn't see my husband one last time for three days, and after hearing this news, I couldn't believe or accept this reality. Everything happened so suddenly, and it felt like my mind was blank. My sister-in-law happened to arrive as well. She cried, and being so tired, her friends had to take her back home. I didn't have much of a reaction; I just felt like it wasn't real. I insisted on driving back home, a two-hour journey, with my oblivious children sleeping soundly in the car. When I got back home, I knew that my sister-in-law had informed her parents about the news. The hospital called again, asking if I would consider donating my husband's organs. I told the hospital to give me until tomorrow to consider and make a decision.
整晚沒睡等著同修打電話給我,等到天亮電話都沒響過,我知道他是真的死了不會再回來了。我也知道器官需要盡快捐才能幫助其他人也同時可以幫同修積善。但是身體髪膚受之父母,一大早打好多通電話才找到在上早班的母親答應讓我捐,然後馬上打電話給醫院捐器官。
I stayed up all night waiting for my husband to call me, but as the morning dawned and the phone remained silent, I knew that he was truly gone and would not return ever again. I also knew that organ donation needed to happen promptly to help others and, in doing so, accumulate merit for my husband. However, since one's body belonged to one's parents, it took numerous calls early in the morning to finally reach my mother-in law, who was working the early shift. She agreed to let me donate, and I immediately called the hospital to arrange for organ donation.
這就是地藏經所說的捨一得萬報吧!把我最愛最難捨的丈夫的身體器官捨掉捐出去利益幫助其他有需要的人,得到佛緣來了!同修的好朋友問我要什麼宗教儀式來做同修的葬禮。我說我父母有拜佛,我也跟著拜佛,我應該也算是信佛的吧。
Isn't this what the Earth Store Sutra refers to as "giving one, gaining ten thousandfold blessings?" By donating the organs of my beloved husband—the most difficult to let go—to help those in need, I feel that I've received the blessings of the Buddha. A close friend of my husband asked me what religious ceremony to hold for his funeral. I mentioned that my parents practice Buddhism, and I follow their lead, so I suppose I consider myself a Buddhist as well.
我父母是傳統的潮州人,潮州人的傳統民俗繁多,會祭祀很多神明和祖先,他們也不例外會祭拜神明,但家裹也有小佛堂供奉觀世音菩薩。跟這位朋友說同修沒什麼宗教信仰,他的母親是天主教徒但是也會跟朋友去寺廟。問母親的意願怎辦葬事,結果她說統統都讓我決定。我就回答朋友用佛教儀式來辦後事。
My parents are traditional Chaozhou people and the Chaozhou culture is rich with various customs, including the worship of many deities and ancestors. My parents are no exception and practice ancestral worship, but we also have a small Buddhist shrine at home where we venerate Guan Shi Yin Bodhisattva. When discussing my husband, I told my friend that my husband didn't have a strong religious belief. His mother was a Catholic but also visited temples with friends. I asked my mother-in-law about her preferences for the funeral arrangements, and she said that it was all up to me to decide. So, I told my friend to proceed with Buddhist ceremonies for the funeral.
第二天去殯儀館把事理好後晚上回家把地藏經請岀來誦希望能幫同修。地藏經是我懷著老大時父母從中國寄來給我,說是讀了對孩子好的經書。可是當時我業障很重,一誦經就很睏很累不想誦,很勉強的在懷孕其間為孩子誦了可能三部,誦完了也不太明白地藏經在講什麼。
The second day, after arranging everything at the funeral home, I went back home in the evening and brought out the Earth Store Sutra to recite, hoping that it could help my husband. The Earth Store Sutra was sent to me by my parents from China when I was pregnant with my eldest son. They said it was a beneficial scripture for children. However, at that time, I had many karmic obstacles, and whenever I tried to recite the sutra, I felt very tired and sleepy, not wanting to continue. I reluctantly managed to recite it maybe three times during my pregnancy, and even then, I didn't quite understand what the Earth Store Sutra was about.
兩三天沒怎吃飯也沒怎睡覺,誦經誦了很少就睡著了。第三天朋友帶我去了一間精舍找了一位比丘尼談如何辦同修的葬禮事宜。之後我去佛堂禮佛,走到放著很多往生牌位的地方供著地藏菩薩像,我當時不知道那就是地藏菩薩,只是覺得他是管地獄的菩薩應該可以幫我同修。
For the past two or three days, I hadn't eaten much and had hardly slept. I tried to recite the sutras but would often fall asleep quickly after only reciting a little bit. On the third day, my friend took me to a monastery, and there I spoke with a bhikshuni about how to arrange my husband's funeral. Afterward, I went to the Buddha hall to pay my respects to the Buddhas. I then found myself in an area filled with memorial tablets and an image of Earth Store Bodhisattva. At the time, I didn't know he was Earth Store Bodhisattva; I just felt that he was a Bodhisattva in charge of the hells, and I believed he could help my husband.
我就跪在地藏菩薩前一邊哭一邊懺悔我的過錯,然後求菩薩讓同修來見我,告訴我他是否已經真的死了。那天晚上回家我繼續誦地藏經,誦了一點點太累了就睡著了,然後發夢夢見同修很安詳的來跟我說老婆我走了。
I knelt before Earth Store Bodhisattva, crying and repenting for my mistakes, and then I prayed to Earth Store Bodhisattva to let my husband come to me in a dream and tell me if he had truly passed away. That night, when I returned home, I continued reciting the Earth Store Sutra, but I was so exhausted that I fell asleep after just a little while. I dreamed of my husband coming to me peacefully and saying, "My dear, I am leaving."
醒來後如釋重負!就不斷流淚繼續很快的把地藏經誦完而且突然明白地藏經是在講因果報應、做人的道理、誦地藏經的利益和如何修行成佛之道。誦地藏經誦到頓時心開法喜充滿,從哭變成笑了因為我遇到世上最寶貴的佛法。地藏菩薩的加持讓我不再痛苦而且生智慧。
Waking up, I felt a heavy weight was lifted off of me, and tears continued to flow as I quickly completed reciting the Earth Store Sutra. Suddenly, I understood that the Earth Store Sutra was teaching about karma, cause and effect, the principles of being a good person, why you should recite the Earth Store Sutra, and how to practice the path to enlightenment. As I continued reciting the Earth Store Sutra, my heart opened, and I was filled with joy and the Dharma. I went from crying to smiling because I had encountered the most precious teachings of Buddha Dharma in the world. The blessings of Earth Store Bodhisattva relieved my suffering, and I gained some wisdom.
我當時就知道應該放下一切,出家修道才是真正的解脫。可惜因緣未成熟!打電話給我父親講了很多佛法,雖然沒提出家念頭,但是他也可能知道我想出家,他只是說要完成養育孩子的責任才能去做我想做的事情。
At that time, I knew that letting go of everything and entering monastic life was the path to true liberation. However, it was unfortunate that the circumstances were not ripe for it. I had a conversation with my father where I shared a lot about Buddhism. Although I didn't explicitly mention the idea of leaving the home life, he might have understood my desire. He simply mentioned that I should fulfill my responsibilities in raising the children before pursuing what I wanted to do.
我想地藏菩薩教我們孝順所以我也應該孝順父母聽從父親的話。後來因為地藏經中還有一點經文不太明白所以就上網查,找到了宣公上人講解的地藏經淺釋。剛好父親也把宣公上人的傳記從微信中轉發了給我,看完後被上人的德行感動了,所以就來了萬佛聖城。
I believe that Earth Store Bodhisattva had taught me to be filial, so I felt it was important to be filial to my parents and listen to my father's words. Later on, because there was a part of the Earth Store Sutra that I didn't fully understand, I searched online and found a concise explanation of the Earth Store Sutra by the Venerable Master Hua. Coincidentally, my father had also forwarded me Venerable Hua's biography on WeChat. After reading it, I was deeply moved by the Venerable Master's virtues, and that's why I came to the Sagely City of Ten Thousand Buddhas.
來到聖城就有回家的感覺,就不想離開了。孩子們也很喜歡在這裹讀書。我常常跟他們說你們很幸福可以在三寶地讀書,可以從小就學習佛法,得法師和老師們的悉心教導!要懂得感恩!感恩佛菩薩的加持!感恩宣公上人的教導!感恩法師們的慈悲!感恩父母的養育之恩和支持!感恩大家的幫助!感恩孩子們的體貼和孝順!感謝大兒子親軒幫我做英文的翻譯!希望大家在下週的地藏七精進用功,法喜充滿,早日共成佛道同生極樂世界!南無阿彌陀佛!
Coming to CTTB feels like coming home, and, therefore I don't want to leave.The children also love studying here. I often tell them, "You are very fortunate to be able to study in the Triple Jewel's land, to learn Buddhism from a young age, and to receive the wholehearted guidance of the Dharma masters and teachers. You should understand gratitude." Therefore, I am grateful to the Buddhas and Bodhisattvas for their blessings, to the Venerable Master Hua for his teachings, and to the Dharma masters for their compassion. I am also grateful to my parents for their support and kindness in raising me as a child. I am grateful to everyone for their help, to my children for their thoughtfulness and filial piety. Thanks to my eldest son Qin Xuan for helping me with the English translation. I hope everyone will diligently practice during the upcoming Earth Store Bodhisattva seven-day session. I hope you all will be filled with joy in the Dharma, and swiftly attain Buddhahood together in the Western Pure Land. Namo Amitabha Buddha!
---