邱瑞蓮居士講於2023年8月25日星期五晚 萬佛聖城大殿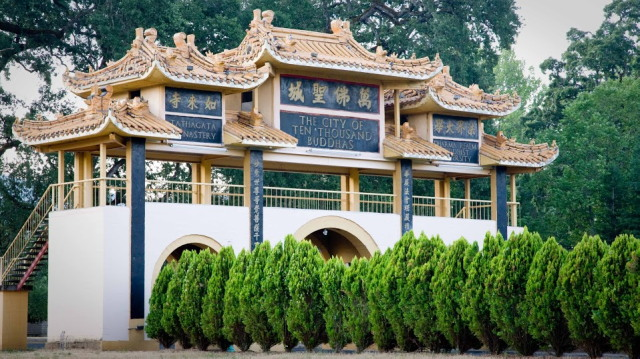 諸佛菩薩,宣公上⼈,各位法師,各位居⼠,阿彌陀佛!我叫邱瑞蓮,中國⼭東省淄博市⼈,今年68歲。今年3月16日,我來到女兒家,探望家⼈,並且來參加外孫⼥的在⼥校的⾼中畢業典禮。我想和⼤家分享⼀下,來到聖城發⽣在我身上的幾點事情。
All Buddhas, Bodhisattvas, Venerable Master, Dharma Masters, and Dharma Friends. Amitofo! My name is Qiu Ruilian. I am from the City of Zibo, Shandong Province of China, and I am 68 years old. On March 16th of this year, I came to my daughter's home to spend time with my family and attend my granddaughter's high school graduation at Developing Virtue Girls School. I would like to share a few experiences that happened to me upon arriving in the sacred city.

早就聽女兒講瑜珈這個地⽅,有美國最⼤的佛教道場。懷著好奇的⼼情,四月下旬,我決定去道場看⼀下,這⼀天是我第⼀次自⼰出門,騎上小電動車,直奔萬佛聖城,忽然在⼀個拐彎處,不小⼼將自⼰摔倒,左胳膊著地,頓時像過電似的疼痛,然後就倒在了地上,感覺左肩膀連帶著疼痛,胳膊肘立刻腫了起來,幾分鐘後,自⼰嘗試著站立起來,動動腿沒事,甩甩胳膊還好,骨頭沒受傷害,腦袋也很清醒,那就繼續向著萬佛城前⾏吧。

Having heard about Ukiah from my daughter, a place with the largest Buddhist monastery in the United States, I became curious. In late April, I decided to visit the monastery to see it for myself. It was the first time I ventured out alone. I headed straight for the City of Ten Thousand Buddhas riding on a small electric scooter. However, at a sharp turn, I fell down. My left arm took the impact, and a sharp pain surged through me as if struck by electricity. I found myself lying on the ground, and my left shoulder was also in pain. My elbow immediately swelled up. After a few minutes, I attempted to stand up. My legs were fine when I moved them, and after shaking my arm, it seemed okay too. My bones were unharmed, and my mind was clear. So, I decided to continue my journey towards the City of Ten Thousand Buddhas.

徑直來到萬佛⼤殿,這時聽到殿內的鐘聲響起來,禮佛開始了,我就在旁邊椅⼦上坐了下來,用⼿摸了摸自⼰的胳膊肘,⼿⼼裡好像攥著個麵包片似的,厚厚的,鼓鼓的,腫的挺⾼挺⾼的,當時我的⼼情很鬱悶。漸漸的,看著法師居⼠們恭敬的舉動,聽著溫和的誦經聲,我的⼼就開始靜了下來。

I proceeded directly to the Buddha Hall. As I entered, the sound of the bell resonated through the hall, signaling the beginning of the ceremony. I found a seat nearby and sat down. I checked my swollen elbow with my hand. The feeling was a sensation similar to holding a thick, puffy slice of bread. The swelling was quite pronounced. At that moment, I was feeling somewhat frustrated. Gradually, as I observed the respectful gestures of the Sangha and lay devotees and listened to the gentle recitation of sutras, a sense of calmness began to wash over my heart.

幾分鐘後,我就嘗試照著前面⼈的動作跟著跪拜了起來,⼗分艱難的只跪拜了⼗幾個,感覺自⼰的腿就受不了了。我快七⼗歲了,三年前也患上了老年⼈⼤多都得的骨關節腿病。左腿膝蓋骨關節就連軟的席夢思的床面都不敢沾。不能正常下樓梯需要倒著腳上下樓梯。沒堅持幾分鐘,就無奈的回到旁邊的椅⼦上坐了下來。

A few minutes later, I attempted to follow the actions of those ahead of me and began to bow. It was extremely difficult, and I managed to perform just over ten bows before my legs couldn't handle it anymore. I am approaching seventy years of age, and three years ago, I also developed the common joint issues that many elderly people face. My left knee joint, in particular, was so sensitive that I couldn't even bear to have it touch a soft memory foam mattress. I couldn't descend the stairs normally and had to go down the stairs backwards.

⼀個多小時的⼤悲懺結束了,⾛出⼤殿后,我的⼿自然不自然的去摸了摸胳膊肘,自⼰頓時驚呆了,感覺腫塊⼀點沒有了,我不太相信的,又仔細的撫摸了幾下,確實⼀點都不腫了,只是骨頭還有些疼。太神奇了,怎麼就不腫了?回家後跟女兒和朋友談起了這事,他們說這是⼤悲懺的⼒量。我也感覺是觀音菩薩讓我少受苦難。

After enduring only a few minutes, I reluctantly returned to the chair beside me and sat down for the rest of the session of the Great Compassion Repentance. Upon leaving the main hall, my hand instinctively went to touch my elbow. To my amazement, the swelling had disappeared. I couldn't quite believe it, so I touched it a few times more, confirming that the swelling was completely gone. Only a lingering soreness remained. It was truly miraculous-how did the swelling vanish like that? Once I returned home, I discussed this experience with my daughter and friends. They attributed it to the power of the Great Compassion Repentance. I also felt that Guanyin Bodhisattva might have helped alleviate my suffering.

在這種好奇⼼的驅動下,我決定參加五月份的萬佛寶懺。最早的想法是,來都來了,反正在家也沒什麼事作,打發打發時間吧。騎上電動車再去萬佛聖城,你說奇怪不奇怪?騎到半路不知怎得又摔倒了,這下摔的挺重的,⽜仔褲摔了個⼤洞,左腿膝蓋⾎⾁模糊,⼿也摔破了,趴在地上老⼤一會兒沒起來。這美國也真是的,路上半天也不見有⼈的蹤影,還是靠自⼰起來吧。拍了拍腿上的⼟,第⼆次甩了甩胳膊沒事,踢了踢腿還好,沒傷筋動骨,腦袋也還清醒。那就⾛吧,就又騎上車向萬佛聖城前進。

Driven by this curiosity, I made the decision to participate in Ten Thousand Buddhas Jeweled Repentance in May. My initial thought was that since I had come all this way and didn't have much to do at home, I might as well pass some time. Once again, I rode my electric scooter and headed to the City of Ten Thousand Buddhas. How strange? I had fallen again! This time it was quite severe. My jeans had a large tear, my left knee was bloody and bruised, and my hands were scraped. I remained lying on the ground for a while, uncertain how to get up. It seemed as though no one was around on the road in America; I had no choice but to rely on myself to get up. After dusting off the dirt from my legs, I patted them to ensure they were alright. I shook my arm for a second time, and after kicking my leg, I realized that nothing was seriously injured. My mind was still clear. With determination, I got on my scooter again and continued on towards the City of Ten Thousand Buddhas.

到了⼤殿開始拜第⼀炷香,我的感覺跟平時不⼀樣了,眼睛開始模糊,眼淚不知不覺的往下流。不是自己想哭,就是忍不住的流淚,這⼀個小時可不容易,簡直就是從開始哭到最後,回到家後眼睛老是濕著,直到睡覺前總是用紙巾擦眼淚,連續幾天都是這種感覺。

Upon getting to the Buddha hall, I began to bow the first incense. Something was different this time; my sensations were not the same as usual. My vision grew blurry, and tears began to flow down my cheeks unconsciously. It wasn't that I wanted to cry; the tears just flowed involuntarily. The hour-long session was no easy feat; it felt as if I had been crying from the beginning to the end. When I returned home, my eyes remained moist, and I found myself using tissues to wipe away tears until I fell asleep. This feeling persisted for several days.

再說跪拜吧,剛開始拜⼀炷香的時間,我中間就要休息兩到三次,從⼀開始的跪拜是十到二十個,到旁邊坐下來休息逐漸增加三⼗個四⼗個,七⼗個,⼋⼗個。漸漸的半個月下來,我能堅持這一個多小時,全程跟著拜下來了,不用到旁邊坐下休息了。然後我又增加了往生堂回向,將近兩個小時,站立和跪拜都能堅持下來了。在這三年前是不可想像的。

As for bowing, initially, during the first incense, I had to pause two or three times. I started with around ten to twenty bows, then sat down for a brief rest afterward. The number of bows gradually increased to thirty, forty, seventy, and even eighty as the days went by. Over the course of two weeks, I built up my stamina, and I could now endure for over an hour, completing the entire incense without taking a break. Furthermore, I participated in the last incense of transferring the merit at the Rebirth Hall, extending my practice to nearly two hours. I was amazed that I could stand and bow with resilience. This transformation was beyond my imagination just three years ago.

以前,每次出門走路最多只能持續半個小時,然後就必須急忙回家躺在床上休息。走路本身成了問題,更別提跑步了。女兒瞭解到我腿部情況的好轉後,鼓勵我嘗試步行前往萬佛聖城。經過一番思考,我決定試一試。

Before I came here​, I could only walk for a maximum of half an​ hour​, and then I had to hurry back home to lie down and rest. Walking​ itself became a challenge​, not to mention running. After my daughter​ learned about the improvement in my leg condition​, she encouraged me​ to try walking to the City of Ten Thousand Buddhas. After some thought​, I decided to give it a try.

第一次,我從家裡步行前往萬佛聖城,全程需要50分鐘,途中休息了五分鐘。在接下來的第二天和第三天,我仍需中途休息。然而到了第四天,我不知不覺地已經到達了萬佛聖城,無需休息。從那以後,每天我都步行前往參加萬佛寶懺,然後由女兒接我回家。

The first time​, I walked from my daughter's home to the City of​ Ten Thousand Buddhas​, the whole journey took 50 minutes with a five-minute rest along the way. On the second and third day​. I still needed​to rest midway. However​, by the fourth day​, I had unknowingly reached​ the City of Ten Thousand Buddhas without needing to rest. Since then​, I​ walked to participate in the repentance ceremony every day and my​ daughter would pick me up to take me home.

隨著寶懺的最後一天的結束,我的腿部疼痛也減輕了許多。更令我欣喜的是,我居然可以小小地跑步了。我告訴了我遇見的每個人我腿部的變化,甚至會向他們演示我的跑步能力。這在之前,甚至不敢想像。你說這是不是很神奇呢?

As the last day of the ceremony approached​, my leg pain had also​ greatly diminished. What's even more delightful is that I could actually​ jog a little. I would tell everyone about the changes in my legs and even​ demonstrate my ability to jog. This was something I couldn't even dare to​ imagine before. Isn't it quite miraculous?

現在只要沒有特殊情況,我每天都會去萬佛聖城,參加大悲懺或者上晚課,這是我每天必須要做的事情。如果不去的話,就感覺今天少了點什麼。儘管七八月份的天氣氣溫達到三十八九度,但我仍然充滿精神地步行前往萬佛聖城。

Now​, as long as there are no special circumstances​. I go to the ​ City of Ten Thousand Buddhas every day to participate in the Great​ Compassion Repentance or to attend the evening ceremony; these are​ the things I must do every day. If I don't go​, it feels like something is​ missing today. Despite the weather in July and August reaching​ temperatures of 100-102 degrees Fahrenheit​. I still walk to the City of​ Ten Thousand Buddhas with enthusiasm.

上個月開始我和王姐姐相約來聖城做義工。我們清理大殿門前松枝幹葉,然後到山城旁掃樹葉,掃松枝,清理垃圾。每次來大約要做兩個半小時。

Last month​, my friend Ms. Wang and I decided to come to CTTB to​ do volunteer work. We cleaned up pine branches and dry leaves in front​ of the main hall. Then proceeded to sweep leaves and pine needles by​ the gate​, as well as tidy up the trash. We spent approximately two and​ a half hours each time we came.

在這期間,機緣巧合地讓我們結識了一位老法師。法師以慈悲之心跟我們講法,對我啟發很大。法師教我們拜觀音菩薩,送我們五色線,也傳授給我們許多強身健體的方法。她說話的速度很快,言辭幽默,思路清晰,即使80多歲了,頭腦依然敏銳。我對她深感喜愛和敬佩。我每天都渴望能見到法師。

During this time​, through a stroke of serendipity​, we had the​ chance to meet an esteemed senior Dharma Master. With a​ compassionate heart​, the Dharma master shared dharma with us​, which​ left a significant impact on me. The Dharma Master taught us to recite​ GuanYin Bodhisattva and gifted us with Five – Color Braided Cords​, also​ imparting a few methods for fostering physical well-being. She speaks​ rapidly​, her words laced with humor, but her thoughts clear. Even in her​ 80s​, her mental acuity remains sharp. I hold a deep fondness and​ admiration for her. I was looking forward to meeting her every day.

到了我這個年齡,每天能為聖城做一些事情,我心裡仍然感到非常高興。國內的朋友知道我來到萬佛聖城後都為我感到高興,他們常常與我保持聯繫,發送一些佛教的學習內容讓我閱讀,我也經常和她們分享萬佛聖城的動態。七月三十號我也皈依了。

Being able to contribute a bit to CTTB everyday at my age brings​ me a sense of genuine happiness. Friends back in China are delighted to​ know about my presence in the City of Ten Thousand Buddhas. We​ frequently keep in touch​, and they send me Buddhist materials to read. I​ also often share updates about the happenings at CTTB with them. On​ July 30th​, I took the three refuges.

我深深欣賞萬佛聖城的六大宗旨:不爭、不貪、不求、不自私、不自利、不妄語。我逐漸喜歡上這裡,喜歡聖城,也喜歡聖城裡的人們。你們恭敬、謙遜,志向堅定而友善,都懷有慈悲之心,相信眾生皆有佛性,大家平等相待、和睦相處。現在我來到萬佛聖城,不是為了消磨時光,是希望嘗試深入瞭解佛法,不斷學習佛法。

I deeply admire the six great principles of the City of Ten​ Thousand Buddhas: do not fight, do not be greedy​, do not seek​, do not be​ selfish​, do not pursue personal advantage​, and do not lie. Gradually​, I've​ developed a liking for this place and the people within it. All of you​ exhibit respect and humility​, possessing firm aspirations and kindness.​ Everyone carries a heart of compassion​, believing that all beings possess the Buddha nature. The atmosphere is one of equality and harmony.​ Nowadays​, when I come to the City of Ten Thousand Buddhas​, it's not to​ pass time​, but to delve into understanding the teachings of Buddhism​​, and to continually learn the dharma.

謝謝大家的聆聽。感恩余老師幫助翻譯。阿彌陀佛。

Thank you all for listening. Gratitude to Ms.Yee for providing translation assistance. Amituofo.