金曉丹講於2017年6月15日星期四晚 萬佛城大殿
Audio clip: Adobe Flash Player (version 9 or above) is required to play this audio clip. Download the latest version here. You also need to have JavaScript enabled in your browser.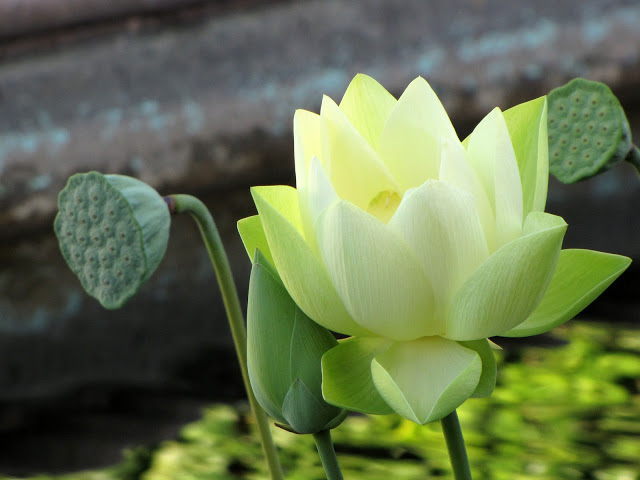 諸佛菩薩、上人、各位法師、各位善知識:阿彌陀佛!今天輪到曉丹在這裡練習作學習報告,如有講錯的地方,請大家慈悲指正。今天想與大家分享幾則小故事。
All Buddhas, Bodhisattvas, the Venerable Master, all Dharma masters, and all wise advisors:Amitabha! Today is Xiaodan's turn to practice making a report. If I say anything incorrect, please compassionately correct me. Today I would like to share some stories.
我們不久前在《法華經》聽到上人講《法華經》中很重要的十如是,而且連續聽了兩遍,上人說這十如是是《法華經》的要義所在,一切的法,總起來不出這十如是,可見它的重要性。
Not long ago, we heard the Venerable Master explain the Ten Suchnesses in his commentary on the Dharma Flower Sutra. These Ten Suchnesses are very important to this sutra, so we even listened to them twice! The Venerable Master said that the essential doctrine of the Dharma Flower Sutra is right here in the Ten Suchnesses. In general, all Dharmas do not go beyond the Ten Suchnesses. From here we can see their importance.
十如是的第一個是如是相,上人開示說:這個相有真的、有妄的,真的相就是我們每個人的"常住真心,性淨明體",也就是真如實相、諸法實相;妄的相就是我們的無明,無明的相是個虛妄的相,沒有實體,不是真的,只是一個假名而已。
The first one of the Ten Suchnesses is The Suchness of The Appearance. The Venerable Master explained that the appearance has a true appearance and a false appearance. The true appearance is, as The Shurangama Sutra states, "The permanently abiding true heart, the bright substance of our pure nature." It is simply the Real Mark of True Suchness, the Real Mark of all Dharmas. The false appearance is our ignorance. Ignorance is empty and false. It has no real substance. It is only a name.
這個虛妄的相就是在《法華經》上說的"見諸眾生,為生老病死、憂悲苦惱之所燒煮"看見一切眾生,為生老病死、憂悲苦惱,就好像在烈火裡頭燒、熱水裡頭煮,這麼樣子難受。我們人剛出生的瞬間就注定我們遲早要面對老、病和死,只是依每個人的業感有的人早、有的人晚而已,而在人生幾十年的光陰裡,我們大部分時間又是在憂悲苦惱中過日子,讓自己很痛苦。而佛告訴我們這一切都是虛妄的相,如空華水月一樣的不真實,那我們不是很冤枉嗎?
The false appearance, as The Dharma Flower Sutra states, causes living beings to undergo birth, old age, sickness, and death, worry, sorrow, grief, and misery. It is like being burned in a big fire or boiled in hot water, that is difficult to undergo." As soon as we were born, we were destined to encounter old age, sickness, and death one day. Only because of our individual karma do some people encounter them sooner or later. Yet in the few decades of our lives, we spend most of our time in worry, sorrow, grief, and misery and bring ourselves much suffering. The Buddha, though, tells us that everything is characterized as false and illusory, as unreal as flowers in empty space or the moon reflection in the water. Aren't we then very wronged?
記得有一天,我在君康作前台,來了一位中年婦女,點了幾樣菜帶走。我幫她點完後,告訴她要等大約15分鐘左右,她說外面天氣好,到外面去等。我說可以,等菜做好了,我出去叫她。
I recall one day when I was helping out as a waitress at Jyun Kang that a middle-aged woman walked in and ordered a few dishes to go. After taking her order, I told her that it would take 15 minutes or so. She said the weather was nice and she would wait outside, and I said that I would call her when her order was ready.
過了一會兒,來了四位東方人,其中一位帶有很濃的香煙味,我猜想他大概剛才在車子裡抽完煙。剛給他們安排座位坐好,那位中年婦女突然衝進來,看到我叫我出去一下,我跟她出去,才看到她手裡拿著一根剩下三分之一的煙頭,還在冒著煙。
After a while four Asian people walked in, one of whom smelled strongly of cigarette smoke. I thought to myself that he probably had just finished smoking in the car. Right after I brought them to a table, the middle-aged woman rushed in and told me to come out for a moment. I went outside with her and saw that she had a cigarette butt that was one-third long left and still smoking in her hand.
她舉著煙頭對我很氣憤的說:"看,這就是剛才那四個人,嘴裡喊著,我愛佛,我愛聖城,卻抽著煙,隨手扔在地上,我要進去"砰"的給他一老拳。"她舉著拳頭在空中揮舞著。
She showed it to me and said indignantly, "Look, this was done by those four people who just walked in. They proclaim, 'I love the Buddha, I love CTTB, yet they smoke and throw cigarette butt on the ground. I'm going to go in and give him a fist to the head." At this point she raised her fist and swung in the air.
我看她情緒這麼激動,便隨口說:"我們應該原諒別人。"她一下子愣住了,整個人靜了下來,過了一會兒,才慢慢地說:"原諒,這正是我要學的。這麼多年,我得到生物學、心裡學等等的學位,世上我想要的都有了,但我需要學的正是原諒。謝謝你,謝謝你。"我說:"我們應該原諒別人,希望他們以後變成更好的人。"
I saw that she was very emotional and casually replied, "We should forgive others." She suddenly stopped in her tracks and, after taking a while to calm down, said slowly, "Forgiveness is what I need to learn. All these years I have earned degrees in biology and psychology, and I have attained everything I want in the world, but what I needed to learn was actually forgiveness. Thank you, thank you." I said, "We should forgive others and hope that they can become better people."
她說:"是的,希望萬佛城幫助這個世界變得更好和平和。"我說:"是的,我們自己先做好,希望別人也變得更好。"她的情緒穩定下來,然後給我一個很久的擁抱,我能感覺到她內心的痛苦,不知是否她曾被人傷害過,有些讓她痛苦而不能原諒的人或事呢?我繼續說:"我們原諒別人,正是原諒我們自己。"
She said, "Yes. I hope that CTTB will help the world become better and more peaceful." I added, "Yes. We should first be good ourselves and then hope that others can become better." Her emotions gradually stabilized, and then she gave me a big and very long hug. I could perceive her internal suffering and agony; I don't know whether she was hurt by someone else, or whether she had some unforgivable experience? I continued, "By forgiving others, we are just forgiving ourselves."
想想我們一生當中是否有些人曾傷害過我們,我們一直無法原諒呢?或是現在我們周圍的人讓我們起煩惱,我們就不高興?我們常常抱怨外界的環境或某個人不好,讓我們起煩惱。
We should reflect on our lives and on whether there has been someone who has hurt us and whom we have never been able to forgive? Or whether there are people around us who cause us afflictions or cause us to become unhappy? We often complain about our environment or a certain person and claim that this brings us afflictions.
當我們無緣無故被人無中生有地毀謗或侮蔑,我們內心是否很氣憤?可想想自己根本沒有做過這些事,嘴長在別人身上,想怎麼說是他的事,又何必生氣呢?這麼心念一轉,自己不生氣,又可原諒別人的無知,何樂而不為呢?我們原諒別人的同時,自己從這種苦惱中解脫出來,其實真正受益的是我們自己。
When we are slandered or scolded by others for no reason at all, do we feel furious within? But thinking it over, we have never done what they claimed. They can choose what they want to say, so why get angry over that? With a change of heart, not only will we be no longer angry, we can also forgive the ignorance of others—why not do this then? As we forgive others, we are liberated from this suffering, and actually the true beneficiary is ourselves.
看來自己起煩惱,不是別人讓我們起煩惱,而是我們自己心念的問題。如果我們能轉變我們的心念,不就少了很多的煩惱嗎?外面的境界並沒有改變,人也沒有變,只是我們把自己的心念轉了,從生氣變得內心祥和。
From here we can see that our afflictions are not caused by others, but by our own thoughts. If we can change our thoughts, won't we have reduced many of our afflictions? Neither the world outside nor the people have changed—only our own thoughts have changed—yet we are serene and harmonious and no longer angry.
有一次法師上課時與我們分享她的一次經歷。以前她在分支道場時有一位法師敲木魚讓她起了很大的煩惱,而且那位法師每次都是站在她的後面敲,因為這位法師敲木魚的方式讓她無法接受,所以每天那個時候的到來都讓她感到很不舒服、很煩惱。
Once in class a Dharma Master shared one of her experiences with us. Once when she was at a branch monastery, she became greatly afflicted by another Dharma Master hitting the wooden fish, who also always stood behind her. She just couldn't bear the way in which this Dharma master hit the wooden fish, so every day during that time she would feel very uncomfortable and afflicted.
最後她實在無法忍受,曾與她交流,告訴她應該如何敲木魚,可是仍然很難改變,每次她都在痛苦地忍受著,木魚好像敲在她的心上一樣,這麼忍受著不是幾天、幾個月,而是幾年的時間。
In the end she couldn't take it anymore and told this Dharma Master how to actually hit the wooden fish, but it made no difference. Thus, every time she had to endure the agony of the striking of the wooden fish, which felt like it was striking her heart. She didn't just endure this for a few days or a few months, but for several years.
有一天她因為中午吃得太飽,下午拜大悲懺,又做維那,她唱起來很辛苦,便唱得很慢,她唱得越慢,後面的木魚敲得越快,兩個人就這樣僵持著、僵持著,突然間那位敲木魚的法師無法忍受地跑了出去。
One day she had eaten too much for lunch, so it was difficult for her to be wei-nuo for the Great Compassion Repentance and she chanted slowly. But the slower she chanted, the faster the Dharma Master hit the wooden fish behind her. They stood at this impasse for a while, until suddenly the Dharma Master hitting the wooden fish couldn't bear it anymore and ran out.
而此刻她的眼前呈現出一幅畫面,她原來一直在心裡有看不起這位法師的想法,所以她的心中這份煩惱一直干擾著她,此時她的一念懺悔使她從這種煩惱的想法中解脫出來,她感到從未有過的內心平和和輕安,接下來的幾個月她都在這種輕安的境界中,那位法師仍然一如往前的敲木魚,但對她不再有任何負面的影響,不再煩惱和干擾她。
At this moment, a vision appeared before her eyes—she had always thought the other Dharma Master wasn't as good as she was, so that was why she had been continuously afflicted by her. But her one thought of repentance at that moment allowed her to be liberated from this afflicted mind-set, and she felt unprecedented peace and calm within herself. Over the next few months she was always in this lighthearted and calm state, and even though the other Dharma Master kept on hitting the wooden fish in the same way as before, she was no longer negatively influenced, afflicted, or disturbed by her.
外面的境界並沒有改變,而她內心的轉變使她從內心的苦惱中解脫出來。正如上人說的:"我們修道的人要常常人轉境而境不能轉人,這就是解脫一切煩惱纏縛的辦法。煩惱就是愚癡,沒有煩惱就生出智慧來了。"
External states did not change at all; rather, her internal transformation allowed her to become liberated from her internal pain and affliction. Just as the Venerable Master said, "Those of us who practice the way should often turn states and not let them turn us. This is the way to become liberated from all afflictions and restraints. Affliction is ignorance; wisdom will arise when there is no more affliction."
我們大部分居士都認識一位每月義務來聖城為我們剪頭髮的專業理髮師Judy,因為都曾經受益於她的免費剪頭發。她與聖城的因緣源於她的兒子。她的兒子曾被派到阿富汗前沿打仗,作為母親的她非常擔心兒子的安危。
Most of the laypeople know a professional barber called Judy who comes monthly to CTTB to cut our hair for free. Her affinities with CTTB originate with her son. Her son was once sent to the front lines in Afghanistan, and as a mother, she naturally was very worried about her son's safety.
無奈下她找到聖城誠心地求佛菩薩,跟法師一邊訴說一邊哭,法師建議她給兒子設立牌位和光明燈,不久後果然她的兒子從前線回來,與他一起去的同事都死在前線,只有他一個人回來,這使她對佛菩薩的信心大增。
Out of options, she came to CTTB to sincerely pray to Buddhas and Bodhisattvas. She explained the situation to a Dharma Master, crying as she spoke. The Dharma Master suggested her to set up plaques and a bright lamp for her son. Not long after, her son actually returned—all other soldiers who went together with him, however, had died in the front lines, and he was the only one who returned. In this way, her faith in the Buddhas and Bodhisattvas greatly increased.
後來,她的兒子又要被派去前線打仗。她再次來到聖城,跪在上人面前求上人,並發願,如果她的兒子能不去前線,她願意來聖城作義工,幫常住眾剪頭髮。結果她兒子不但沒有去前線,而且申請退伍也得到批准。她再也不用提心吊膽地憂慮兒子,她很開心和感恩,所以,儘管她外面的預約顧客很多很忙,她每個月一定抽出時間來趟聖城幫居士剪頭髮,慢慢地她也抽出時間來參加法會。
Later, her son was again sent to the front lines to fight. She then came again to CTTB and knelt in front of the Venerable Master's statue, begging him for help and vowing that if her son did not have to go to the front lines anymore, she would like to come to CTTB to volunteer and help cut laypeople's hair. In the end, not only did her son not have to go to the front lines, he was also permitted to quit the army. She no longer had to constantly and fretfully worry about her son and was very happy and grateful. Therefore, regardless of how many customers she has, she will always take some time every month to come to CTTB and help cut laypeople's hair. Gradually she also began to take time off to attend Dharma assemblies.
有一次她剛幫我們剪過頭,一個星期後她又出現在聖城,她叫住我,我問她你怎麼會來,她說那天剪完頭,兩天後她上班時出了車禍,她心裡很難過和不安,便來到這裡。
Once, after having just finished cutting our hair, she appeared again in CTTB a week later. She called me over and I asked her why had she come again. She said that two days after she had come to CTTB, she got in a car accident on the way to work. She felt very concerned and uneasy, so she had come again.
我問她你人有沒有受傷?她說她人沒事,可她的車完全報廢了,她很心疼她才開了兩三年的新車,我安慰她說你人一點事沒有,車壞了可以再買一輛新車,人沒事是最幸運的,你這是破財消災免難。前兩天也有一個居士開車時出了車禍,當時車和人都無大礙,撞她的年輕人說他沒有保險,求她不要報警,她便答應了。回家後,過了兩個星期開始咳嗽,以為感冒,沒想到越咳越厲害,後來照X光發現胸骨已撞裂。
I asked her whether she had gotten hurt, and she said that she was fine, but her car had been totaled. She was sad about her new car, which she had only driven for two or three years. I comforted her by saying, "What is important is that you are fine. You can buy a new car if your car is broken, but what is most fortunate is that you are okay. This is really avoiding disasters and calamities by losing wealth. A few days ago, there was also a layperson who got into a car accident. At the time, she and her car were fine, so she agreed when the young person who had crashed into her asked her to not report him to the police because he had no car insurance. Two weeks later, she began to cough. Originally, she thought it was just a cold, but it got worse and worse, and later after an X-ray did she find out that there was a fracture in her breastbone.
我繼續說:你現在人沒事是最好的,你喜歡那輛車可以再買一輛新的,人壞了怎麼辦呢?我又問她你開車時有沒有放大悲咒呢?她說有,出車禍後,車報廢了,可大悲咒仍在响着。我說是啊,這就是觀音菩薩保佑你了嗎?後來她下一次再來給我們居士剪頭時,我問她最近怎麼樣了?她說她現在很好,身體也很好,而且又買了一輛同樣的新車。
I continued saying: What is best is that you are fine. If you like that car, you can buy a new one, but what would you do if you were injured?" I also asked her if she had played the Great Compassion Mantra in her car? She said that she had, and even after the car was destroyed in the crash, the Great Compassion Mantra recitation continued to play. I said, "Look! Isn't this Guanyin Bodhisattva protecting you?" The next time when she came to cut our hair, I asked her how is everything going. She said that everything is good now, and her health is very well and she had bought the same new car as before.
她做義工做得很歡喜,雖然每次都很忙很累,有一次她對我說,她希望她可以一直為聖城居士剪頭髮,直到她有一天老了,不能動了,我聽了非常感動她的誠心。佛法讓她心靈得到平安和快樂,不再去太多地擔心和牽掛兒女,學著慢慢放下。
She finds joy in doing volunteer work, even though every time she is very busy and tired. She once told me that she hoped that she could continue to help cut laypeople's hair until one day when she was old and couldn't move anymore. When I heard this, I was very moved by her sincerity. Buddhadharma let her mind attain peace and happiness—she no longer worried excessively about her children and instead learned to slowly let things go.
上人說我們修道人要一天比一天快樂,沒有脾氣、煩惱、無明,就是一個真正的自在人。要是有脾氣、煩惱、無明,就是自己跟自己過 不去,自己給自己上刑,打自己的板子。
The Venerable Master said that as practitioners of the Way, we should be happier day by day. If we can be without tempers, afflictions and ignorance, then we are truly free and at ease. If we still have tempers, afflictions, and ignorance, then we are at odds with ourselves, torturing and abusing ourselves.