Abigail Setera講於2016年9月8日星期四晚 萬佛城大殿
Audio clip: Adobe Flash Player (version 9 or above) is required to play this audio clip. Download the latest version here. You also need to have JavaScript enabled in your browser.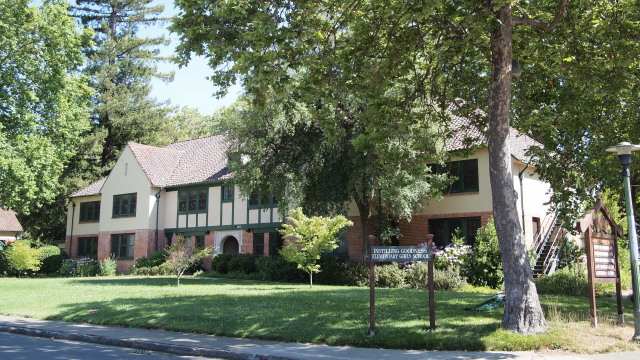 Buddhas, Bodhisattvas, VM, DM, all good knowing advisors and all dharma friends, good evening.
諸佛菩薩,上人,各位法師,各位善知識,各位法友,晚上好!
My name is Abigail Setera. As some of you may know, I'm going off to university soon, which means that I have to leave CTTB, my home, behind. My family and I moved here in 2010. Back then, I was a twelve year old girl with rabbit teeth and bangs right above my eyes and I remember being excited about moving and going to school here, starting a new life and leaving the old behind. And now, six years later, the same thing is happening again. As an old chapter comes to an end, a new one begins.
我的名字叫Abigail,也許有人知道我馬上就要去上大學了,這意味著我要離開我的家—萬佛聖城。家人和我是2010年搬到這裏,那時候我只是一個十二歲的女孩,長著兔牙,劉海蓋在眼睛上面。我記得搬進聖城,要在這裡上學讓我很興奮,和過去告別去,迎接新的生活。而現在,六年之後,也是同樣的事情,翻過這一篇章,要有了一個新的開始。
Even though I have experienced a big change in my life before, I'm not sure I'm ready to walk out of the mountain gate just yet. The biggest difference between then and now would be that back then I had my parents with me and soon they won't be with me anymore. While I am excited about being on my own and being independent for the very first time, another part of me still wants to hold on to my parents' hands, to hold on to my childhood.
雖然我也曾經經歷過人生很大的轉變,我還是不確信是否已經準備好走出這個山門。回故現在和那時候,最大的不同就是那時候我的父母陪著我,那接下來他們就不會再陪著我了。當我為了第一次可以自己獨立生活而興奮時,心的另一部分依然想要牽著父母的手,想要抓住我的童年。
I remember wishing that I could stay a kid forever and never grow up. That is probably my most memorable false thought. I didn't want to deal with the endless responsibilities that the adults have like getting a job and paying the bills. Right now, those things don't look too bad, but when I was younger, those things looked too difficult to handle. As a child, the things that adults do seem very daunting.
還記得以前希望自己永遠都是個孩子,永遠都去不會長大。這大概是我最難忘的妄想了,我不想處理成人世界無休止的責任,比方說找份工作,付各種帳單。現在這些看起來沒什麼,但小時候覺得這些事太麻煩了。小孩子眼裏覺得大人們要做的事都聽嚇人的。
Even though I am legally an adult, I do not feel like one and moreover I don't know how to be one. I grew up thinking that adults knew everything and that they had all the answers. But in reality, they don't. How do I know that? Well, it's because I know that I don't know everything. If everyone knew everything, we all would be sages already.
雖然在法律意義上,我已經是成年人了,但我自己沒有這麼感覺,而且我也不知道要如何去做一個成年人。我曾以為大人什麼都知道,什麼都會有個答案,但事實不是這樣。為什麼我會知道呢,因為我自己並不是去什麼都明白,如果大家什麼都懂,那我們早就是聖人了。
The first time I realized I was an adult was several weeks ago when my father brought me to the bank to get my checking account opened. When the banker was explaining to me about the account, I realized that I had no idea what he was talking about. The only time I understood him was when he asked me what kind of picture I wanted on my card, I chose the beach one if you were wondering. Other than that I just nodded and smiled, just like what I do here when I can't understand what someone are telling me. I could ask him to repeat again, but I doubt that I would have understood the second time anyway. This is probably the most mundane coming of age story ever.
我第一次覺得自己是大人時,就是幾個禮拜之前,爸爸帶我去銀行開支票帳戶,銀行工作人員跟我解釋帳戶條款,我其實不知道他在講什麼。唯一明白的就是他讓我給卡選個圖案,我選了一個海灘的圖案。其他時候我只是點頭和微笑。就像在聖城當我不明白其他人跟我講什麼,我也只是點頭和微笑。我事可以叫他重複給我聽,但我懷疑就算他多講一遍我也未必會明白。這大概是長大之後都會遇到的事了。
Since CTTB became my home, I have become attached to it and now I have to let it go. Right now, it feels like I am trying to hold on to the past, like I am trying to grab hold of sand that is quickly slipping from my hands. How fast time flies in a blink of an eye! There are only three months left to the end of this year. I remember in the beginning of this year the only thing I could think of was graduation and becoming free! And now I wish that my stay here could last a little longer. Things change. Nothing lasts forever. In fact, this is what the Buddha taught us, that things are impermanent and becoming attached to something will only lead to suffering. I have recently come into terms with leaving and now I am more or less ready to start a new chapter in my life.
既然我當聖城是家,我也有會捨不得這裡,但現在我必須要放下,現在的感覺就像我緊抓著自己的過去就如緊握住手中的沙子一樣,可是沙子很快從指間溜走。時光飛逝如白駒過隙,只在眨眼之間。只剩下三個月就又是一年了,還記得今年年初的時候,我滿腦子只是畢業和自由。現在我希望留在這裡的時間可以再久一點。事情總在變沒有什麼是永遠的。事實上這就是佛教給我們的,世事無常,執著會帶來痛苦。最近處理離開的事,現在或多或少準備開始人生新篇章。
How did I come into terms with myself? I shifted my mindset. It doesn't seem easy at first, but when I did it, I asked myself, "It's so simple. Why didn't I do this before?" Everything shifts from negative to positive, or positive to negative, whichever way one does it. For me it was from negative to positive. A few weeks ago, I was Facebook and seeing my classmates moving on in their lives made me sad and jealous of them. I assumed that they were having fun, since they only shared about the cool stuff they did. They were carrying on fine without me and I felt that they were leaving me behind while I was still here at home waiting for school to start. During those days, I was very lonely and sad and drowning in my own self-pity. Yes, I am a typical teenager.
那我是怎麼處理自己的事情呢,我會轉換思想。剛開始並不容易,但去做的時候,我會對自己說,這麼簡單,我以前為什麼不去做呢。所有的事怎麼變無非就是從好變壞或是從壞變好。對我來說就是由負面變得積極。幾個禮拜之前,我在臉書上看到同學都開始了新的生活,讓我有些傷感也有些嫉妒她們,我猜她們很開心,因為她們分享的都是很好玩的事。沒有我她們也很快樂,我覺得自己被拋棄了,一個人留在這裡等著開學。那幾天我很孤獨,也有些自哀自憐的情緒。是啊我就是個很典型的少年。
Then I remembered a story I read back in Malaysia. It was about this student who was jealous of his neighbor because his neighbor always got higher scores than him. Then his grandmother told him that he shouldn't be jealous but instead rejoice with his neighbor. I reflected on this story and realized that I should be happy that my friends doing well on their own. I should be happy that they are happy and healthy experiencing and exploring what life has to offer, because soon I will be just like them too, in university and making new friends. So many things can change with a single thought.
後來我想起在馬來西亞讀過的一則故事,講一位學生嫉妒他的鄰居考試分數總是高過他。然後他的祖母告訴他不應該嫉妒而應該和他的鄰居一起高興。我想起這則故事意識到自己應該為了朋友們都過得不錯而開心。她們很開心很好的體驗探險了生活賜予他們的,我應該為她們開心。因為很快我也會和她們一樣去上大學,交新的朋友。所以很多事情改變就在一念間。
I always knew that I was going to leave CTTB for university. I had months and years to prepare. Two years ago, I was in Dr. Patterson's English class and our theme was immigration. It was very fitting since most of the students were international anyway. She would make us write about our journey to America or just to CTTB, since there was one student from San Jose. Since I don't know what else to say, I will share a poem I wrote for class about my feelings when I came to the United States. These feelings are quite similar to the ones I have now.
我一直都知道有一天我會離開聖城去上大學,我有成年累月的時間來做這個準備。兩年前我在Patterson's 英文課上有一個主題關於移民。這個主題很對機因為大部分學生都是來自國外。她讓我們寫出來美國的旅程或者在聖城的歷程因為有一個學生來自San Jose。因為我不知道要說什麼,我打算分享當時在課堂上寫的一首詩,關於我來美國時的感受。那時感覺和現在很相似。
Saying farewell to the people I have known so long,
Was only the beginning of my new life.
My only hope was that nothing would go wrong,
As my future was about to take its flight.
再會了,我相識了很久的人們
那只是我新生活的一個起點
我希望自己不會犯錯
我的未來即將翱翔
As it was about to take off,
Questions flew into my mind,
When will I come back? Will this be the end?
The questions lingered as I slept.
這就要啟航了
可是心中滿是疑問,
我何時還能再歸來,
抑或此時已是終點,
睡夢中這些疑問依然徘徊
When I flew across uncharted waters,
Did I leave something behind?
It was when I crossed the border, I realized,
That I had it with me all this time.
當我飛過未知的藍圖
我可曾遺忘了什麼
在我跨越邊境時,
才意識到,原來我從未失去
Leaving behind Malaysia wasn't too difficult for me; my mother was with me every step of the way, so I knew it was going to be okay.
當年離開馬來西亞的時候我並不覺得很困難,因為我媽媽一路都在身邊,所以我知道沒事的。
Back in Malaysia, I used to be a very shy and quiet girl. In fact, when my mother went to meet with my teacher in school for a meeting, the teacher told my mother that I was too quiet, and I wasn't talking as much to my classmates as the other kids were. My mother was confused, what's wrong with being quiet? I guess they were afraid that I won't know the skills to properly communicate with people in the future? Or maybe they just thought I was weird. Anyway, soon after I did make friends and I talked to them.
回想起自己在馬來西亞的時候,我是個很安靜很害羞的小孩,當媽媽去我上的私人基督學校見老師,老師跟她說我太安靜了,我講話不像同齡人那麼多。我媽媽很鬱悶想安靜又有什麼不好?我想他們也只是擔心我以後不善於和人交流。或者覺得我怪怪的。不管怎麼說來了我交了朋友也和她們講話。
Fast forward a several years later to my first day of school at the girls school. I mentally prepared myself saying that I was in America now and that Americans are really extroverted and friendly and I should try to be like that too. And so I ended up talking to the shyest girl in my class since I saw that she was all alone and we became friends. I have become more open throughout my years here rather than being the shy girl that I once was.
幾年前我來女校的第一天,我下意識跟自己說我現在在美國了,美國人都是很外向很熱情的,我也要融入他們。所以我在班上看到一個最害羞的女孩,一個人坐在那裡,我就去跟她講話,做她朋友。在這裡的這些年,我已經比原來要開朗了很多。
My first year here has been quite a transformation for me. The Junior High core teacher, Ms Mark had been very welcoming and encouraging to me. She gave me the confidence that I needed in order to take a step outside of my comfort zone. And it is thanks to her that I became interested in theatre and learn about my love for acting. Before coming here, I don't think that I would have ever done something like this. I think it's fun to be on stage and pretend that you are someone else and pretending that you are in a different reality, like in another time period or in another part of the world. Back in Malaysia, since I was the only child, I often played by myself. I would play my toys and make them talk to each other or I would talk to myself and respond back. So I have been practicing my acting skills since I was young, just without an audience.
在這裡第一年轉變了很多,初高中的班主任mark女士非常欢迎并鼓励我,给我足够的信心跨出去一步。也感谢她讓我對戲劇產生興趣,我也熱愛表演。我來之前從來沒想過我可以做表演。我觉得表演很有趣,在台上扮演別人,在一个不同的环境,就像进入一个不同的时空一个不同的世界。小時候在馬來西亞我也經常自己玩過家家。因为我是独生女。我只有用玩具,讓他們彼此對話,或者我自問自答。你看原來我小時候就已經在鍛鍊我的演技了,只是那時沒有觀眾罷了。
The last time I did theatre was in ninth grade. My class performed a play called Cyrano de Bergerac, and I played the lead role. Cyrano de Bergerac is about a Frenchman who is a great poet and swordsman with a big nose and a big heart. The first time we performed it was just a few days after my mother had been discharged from the hospital. It was her first time seeing me perform, but I don't think she really understood what the play was about.
上一次的表演实在九年级时候,我们班级演出一個劇目叫大鼻子情聖,玩演主角。這個劇目講的是一個法國男人,他是一位偉大的詩人也是個劍客,他有個很大的鼻子和一顆寬廣的心。第一次演出時我媽媽那時剛剛出院,那是她第一次看我表演,不過我覺得她並不明白這個劇講什麼。
In ninth grade, I also joined the mock trial club in another attempt to step out of my comfort zone. Mock trial is a pretend court trial where the students would take up the role of a lawyer or a witness and present a made up case. Believe it or not, it was the shy girl who wanted to join first and I tagged along with her. It didn't interest me at first, because I didn't like the idea of being lawyers and going to court. I thought it would be boring. How wrong I was. It was actually very interesting. It's like doing theatre, but more serious and formal and as a lawyer trying to present an eye-witness testimony, asking the witnesses a lot of questions.
九年級我加入了模擬審判俱樂部,試著跨出另一步。模擬審判就是模擬法庭,學生們扮演律師或證人角色陳述一個虛擬案件。這其實一開始是那個很害羞的女孩想要參加,我只是陪她。起初我不感興趣因為我並不喜歡律師啊,法庭啊這樣的感覺,感覺很無聊。結果我大錯特錯,事實上很有趣,有些像做戲但是正規,嚴肅很多。作為律師要得到證詞,會盤問證人很多問題。
I have never been to court prior to joining mock trial and I knew very little about the legal system here. Being in court for the very first time was very scary and nerve-wracking, especially since we compete with the schools outside. The students outside are very intimidating when they are questioning you, and so you become afraid of saying something wrong, but in the end you become so wrapped up in fear that you forget what you were supposed to say, which is sometimes worse than saying the wrong thing.
此前我從未去過法庭,對法律系統知之甚少。第一次在法庭時很害怕很緊張,尤其是和外校比賽外校的學生在問你問題時很嚇人,讓你擔心自己會說錯話,結果太害怕會忘了原來要說什麼,這就更加糟糕。
The thing I learned from both mock trial and theatre is that sometimes people make mistakes. I make mistakes, like forgetting what I was supposed to say. When that happens, I have to make it up as I go until I remember. I have to improvise my lines. The show must go on, as they say, and so does life. Nothing is fixed.
模擬法庭和表演讓我學到有時人會犯錯,我也會犯錯忘了自己應該講什麼。忘了的時候就要自己來編。就要即興表演。因為演出總要繼續,就像他們說的人生也是如此。沒有什麼是一層不變的。
I think that performing on stage is different than actually talking to a person one-on-one. On stage, you rehearse the same lines over and over again. But on the other hand, when you are talking to someone, you don't know what they are going to say next, and depending on what they say, you might respond differently. So you never know what's going to happen next. That is why I find talking to people more difficult and less fun than acting. But life isn't all fun and games and there has to be a balance.
我覺得在台上表演和人與人面對面交流不一樣,在台上你已經把台詞預演了一遍又一遍。但是另一面你和人交流你並不知道他們要說什麼。對於他們說的你自己的反應也許會不一樣。所以你並不知道會發生什麼。這讓我覺得和人交談會困難很多,而且也不那麼好玩。但是生活就是這樣,不僅僅是好玩和遊戲,所以需要平衡。
As I mentioned earlier, things change all the time whether we like it or not. Moving onto a different topic, I think one of my happiest moments in my life so far was making Buddha statues in the Avatamsaka Monastery in Calgary, Canada. Even though I was only there for two days, I cherished every single second. My parents and I went to Calgary together a few days after summer camp and I am so glad that I had an opportunity to be able to be a part of this project. It gave me a lot of dharma joy and I felt content. After my graduation, I felt very lost and I started to doubt the Buddhadharma. I didn't like that feeling, but I didn't know how to resolve it either.
之前提到的,不管我們喜歡與否,事情總在變,換個話題,我覺得一生中最幸福的時刻之一是在加拿大卡爾加利的華嚴聖寺做佛像的時候。雖然我只是在那裡兩天,我很珍惜那裏的每一秒鐘,夏令營結束幾天後,我父母和我去哪裡,我很高興有機會來參與這個項目。讓我很法喜很知足。畢業後我很失落甚至開始懷疑佛法,我並不喜歡這種感覺,但也不知道要怎麼辦。
Going to the temple in Calgary really helped me out. It renewed my faith in the Buddhadharma. I can't help but feel that it was the Buddhas, Bodhisattvas, and the Venerable Master helping me. I am very grateful for their help. Making Buddha statues was very calming and I loved working with everyone and seeing how sincere and mindful they were while doing their work.
去卡爾加利真的幫了我,讓我重拾對佛法的信念,我感到是佛菩薩上人在幫我。我感恩他們。製作佛像的過程很安寧,我喜歡和其他人一起工作,看到他們那麼誠心又專注的做這件事。
The Dharma Master in charge of the temple knew that my stay was short, so she let me try out every single step in the process. From papier mache -ing cardboard cut-outs that look like a water bottle to shaving off the rough edges of the mold and making the statue smooth and rounded. The process is very fascinating.
那邊的當家師知道我留在那裡時間很短,就讓我嘗試每一個步驟。從紙模,切割成一個水壺的樣子,然後磨邊拋光,整個過程很有趣。
Making Buddha statues is such a rare opportunity and I feel so lucky and grateful to be able to partake in this big project. Opportunities like this don't come by that easily, and when they do, it's now or never.
製作佛像是個非常難得的機會,我感到很榮幸很感恩可以參與其中,這樣的機會來之不易,如果遇到了就要珍惜。過了這村就沒這店了。
I feel that my time in CTTB is like that. To be able to live here is not something anyone can do. Those who do must have great blessings and deep roots with the Buddhadharma and the Venerable Master. I am very grateful to have enough blessings to be able to live here for six whole years and be surrounded by this supportive community, by my teachers, and my parents, who helped guide me every step of the way. I will bring along the wisdom that you have shared with me. I have definitely learned a lot during my stay here. Thank you. Amitofo.
我自己在聖城的時間也是一樣不是每個人都可以住在這裡。住下來的人都是和佛法和上人有很深的因緣,我很感恩有這樣的機會可以在這裡住了六年,得到很多來自於社區,老師還有我的父母支持,引導我的人生。你們讓我得到的智慧我會一直記住,在這裡我的確學到很多。謝謝你們!阿彌陀佛。