張簡嘉乃 講於2008年11月13日星期四晚 萬佛城大殿
A talk given by Amy Chang-Chien on November 12, 2008
Audio clip: Adobe Flash Player (version 9 or above) is required to play this audio clip. Download the latest version here. You also need to have JavaScript enabled in your browser.
---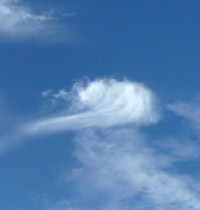 諸佛菩薩、上人、各位法友:晚安!我是Amy張簡,今天我要報告在暑假《楞嚴經》課上所學到的。
Buddhas, Bodhisattvas, Venerable Master and fellow cultivators, good evening. My name is Amy Chang-Chien. Today I will report on what I learned in the summer Shurangama Sutra class.
我們學到有兩種根本,就是兩種心,一種是妄心,一種是真心。佛陀說,這第一種心,是無始的生死根本,就是今日我們眾生用這個攀緣心認它為自性者;第二者是無始的菩提涅槃,就是本來的清淨體,也是現在我們用的識精元明,這是能生諸緣的,但在這諸緣中,我們把它遺失了。
Intro
We learned that there are two roots or two kinds of mind, that of the false and that of the true. The Buddha said "the first is the mind that clings to the conditioned world—the mind that is the basis of birth and death, which has no beginning. It is the mind that you and all living beings now make use of, taking it to be the self-nature. The second root is the original pure reality of Nirvana. It is bodhi, which also has no beginning; it is the original understanding, the essence of consciousness. It is this that has brought forth all conditions, yet living beings lose track of it among those conditions."
除了學到妄心不是我們的真心,我們還學到:這個妄心它是無有在處,無有體相的。在課堂中我們花了不少的時間,學這「七處徵心」跟這「十番顯見」。這十番顯見,我們大概只講到一半吧,所以,今晚我所要分享的是「七處徵心」。
Besides learning that the false consciousness is not the true mind, we also learned how the false consciousness is without a location and without a substance. During the class we spent some time on the Seven Locations of the False Mind and the Ten Aspects of Seeing, which we got about half way through. Tonight I want to introduce the Seven Locations of the False Mind.
在《楞嚴經》開始的經文,阿難他就出事了:他遭到摩登伽女的幻術。當她在快要毀他戒體的時候,他被楞嚴咒拯救了。阿難就後悔他的多聞,然後請求三摩地。佛陀就問阿難當初他為什麼要出家,阿難就回答,他看到如來的三十二聖相。如來就問他:「你是如何看見?是怎樣看到這些勝相呢?是誰生了愛樂心呢?」阿難就回答,他是用他的心、目,他是用眼睛看到如來的勝相,然後心生愛樂。
The Shurangama Sutra started out with Ananda in trouble – enraptured by Mantagi's Kapila mantra, Ananda was on the verge of breaking his precept substance when he was rescued by the Shurangama mantra. Ananda regretted his excessive learning and requested samadhi. The Buddha asked Ananda what caused him to leave home. He replied that he saw the Tathagatha's wonderful and incomparable thirty-two characteristics. The Buddha then asked him "what was it that saw those characteristics and who delighted in them?" Ananda answered that he used his eyes and mind; that is he saw with his eyes the Tathagatha's outstanding characteristics and his mind gave rise to delight.
佛陀問他說,他的心、目在哪兒呢?就像一個國王,他的國土被賊所侵,他需要發兵出去討伐這些賊,當然是需要知道這些賊在哪裡的。當阿難試著要回答佛陀這問題時,他就開始推測;他推測了一處又一處,但是,每一處都被佛陀給推翻掉了。這七處呢,第一就是心在身內;第二是心居身外;第三,心是潛伏在眼根裡;第四,心分明暗;第五,心隨所合處;第六,心處在中間;第七,心就是一切無著;它無所在,所以這一切無著就是心。
The Buddha then asked him where his mind and eyes are located? Just as a king whose country is invaded by thieves and he sends out his troops to suppress and banish them, the troops must know where the thieves are.
In trying to answer the Buddha, Ananda postulated one location after another, each one of which the Buddha struck down. The seven locations are 1) inside the body 2) outside the body 3) in the eye faculty 4) divided between light and dark 5) comes into being in response to conditions 6) in the middle and 7) has no specific location.
那這第一處,阿難的第一個回答就是跟佛陀說:「眼睛在臉上,我心在身內啊。」佛陀就以一個譬喻回答他:「你坐在這講堂內,你可以先看得到講堂內,然後再向外看出去,看到外面的園林。如果你的心是在身內的話,你為什麼不自覺你心裡面的東西,譬如說你為什麼看不到你的內觀?你為什麼不能夠了解你的指甲啊,頭髮啊它們在生長的這些情況呢?如果你不能夠知道心內,那你怎麼能夠知道外面?所以你說這心住在身內呢,沒有這麼回事的。」
1.  Inside the body
Ananda's first response to the Buddha's question of where his mind and eyes are was that the mind dwells within the body and eyes are on the face.
The Buddha responded with an analogy "Sitting inside the lecture hall, you can see inside the hall first, then outside the hall.  If your mind is located within the body, why aren't you aware of what's inside (heart, liver, pulse etc.)?  Why can't you see your internal organs and why don't you know how many fractions of an inch your nails and hair grow each second for instance.  If you cannot perceive what's inside how can you perceive what is outside?  Therefore you should know that you state the impossible when you say that the aware and knowing mind is in the body."
這阿難第二個猜測,他就說:「譬如一盞燈呢,就可以先照亮室內,然後再向外照出去。那這一盞燈如果是擺在室外的話,可以照亮外面,但不能夠照亮裡面。所以類似這樣那無法看到裡面的人,他們的心就處在外面。」佛陀又以一個譬喻回答他:「當一個人吃飯的時候,每一個人都會飽嗎?答案當然是不會啦,怎麼可能一個人吃飯,每個人都飽呢?所以,你說這個心在外面,就不知道身體的觸覺,然後這個心所知,這個身體也不會知道,就是身心不相干,所以說心在身外是沒有這回事的。」
2.  Outside the body
Ananda then made his second postulation.  He said "A lamp located indoor can illumine inside first, then outwardly.  A lamp placed outdoor can illumine outside but not within.  Similarly for those who do not see within, their minds are outside."
The Buddha then asked him "When one person eats, does everyone get full?"  The answer is obviously no, how can one person eating causes everyone to be full.  If your mind is outside, the body would be unaware of what the mind perceives & the mind would not perceive the awareness within the body.  In other words, the body and the mind are mutually exclusive.
Therefore you should know that you state the impossible when you say that the mind which knows, understands, and is aware is outside the body."
第三個,就是根據佛陀前面的兩個對答,阿難就說:「因為心可以見外,但不知內。但它也不離開身體,因為身心相執,所以這個心一定呢……哦!就是掩藏在這個眼根裡。為什麼掩藏在眼睛裡呢?因為還是可以看得出去嘛,但是沒有辦法向內看,不過這也不離開身體。」阿難他就給個譬喻,他就說:「類似像某個人戴眼鏡,這個眼睛還是可以看得見,不會被這眼鏡阻礙他的視線。而這個心也是類似,它有見性,它能透過眼睛,而眼睛不會阻礙這個心。」佛陀反駁他說:「根據你這個譬喻,這個戴眼鏡的人他眼睛看出去的時候,是不是會看得到自己的眼鏡呢?」答案是:「是的,是看得到眼鏡的。」那他又問:如果是這樣子的話,那為什麼你看不到你的眼睛呢?」
3.  In the eye faculty
Based on the Buddha's answers to the first two, Ananda then said since the mind can see outside but does not perceive what's inside and is not separated from the body because the body and the mind have common awareness, the mind must be concealed in the organ of vision or hidden in the eyes.  Why hidden in the eyes?  One can see out but not in, and yet the eyes are not separate from the body.  Ananda gave an analogy: similar to someone wearing glasses and that the eyes are able to see through the glasses without obstruction, the mind has sight awareness through the use of the eyes.
To refute him, the Buddha said according to your analogy, does one see his glasses when he looks out?  The answer is of course.  Then he asked how is then that you do not see your eyes?
第四個就是心分明暗。阿難就說:「開眼可以看見明,這就是見外,就是可以向外看;閉眼是看見黑暗,這個看見黑暗就是見內,就是向內看。」佛陀就回答說:「那當你閉眼睛,所看到的這個暗境是在你的眼前嗎?如果是在你的眼前,那你為什麼說閉眼見暗是見內呢?那如果不是在眼前,而是在裡面的話,那你是怎麼看到它的呢?那你可以向內看到這個黑暗,你是有一種反觀的能力嗎?」佛陀就繼續說:「如果有這種反觀的能力,所以你閉上眼睛時可以看得到這個黑暗,那為什麼你眼睛睜開的時候,用你反觀的能力,你卻看不見自己的臉呢?」這是第四處。
4.  Divided between light/dark
Ananda: Viscera and bowels lie inside the body and are dark while orifices are open to the exterior and have light there. Opening one's eyes, one sees light, which is to see outside. Closing one's eyes, one sees darkness, which is to see within.
Buddha: Does the darkness you see when closing your eyes lie before your eyes? If it is in front, then why do you say it is within? If it is within, how can it be seen, with inward seeing?
If there is inward seeing such that closing eyes you see darkness, why is it that opening your eyes you can't see your own face?
The fifth, sixth and seventh locations of the mind that Ananda postulated are:
第五處他是說:因為心生種種法嘛,由法生種種心,所以這個心是隨所合處;第六處是因為心不在內,也不在外,所以它在中間,這是第六處;第七處,是因為這個覺知分別的心性它不是在中間,不是在外面,也不是在內,它是無所在的,所以這個無著就是心。那麼,諸位想要知道佛陀是怎麼樣回答阿難的話,請你們讀《楞嚴經》。
5.  Comes into being in response to conditions
Ananda:Because the mind arises, all kinds of phenomena arise. Because phenomena arise, every kind of mind arises. The mind exists in response to whenever joining together with causes and conditions.
6. In the middle
Ananda: It's not inside (since one cannot see within) and not outside (since there is a common perception).  It is in the middle.
7.  Has no specific location
The nature of the mind which perceives, makes discriminations, and is aware is located neither within nor outside nor in the middle; it is not located anywhere at all. The very non-attachment to anything is what is called the mind.
To find out how the Buddha answered Ananda, please read the Shurangama Sutra.
當我讀到這部分--佛陀當初問阿難:為什麼他要放下一切,跟著佛陀出家呢?這使我反省思考:我為什麼要辭職來做義工呢?我也問自己我的心是在哪兒呢?因為佛陀指出:「如果我們不知道我們的心之所在,我們怎麼能夠降伏塵勞?」在經過反省思考了一些後,我也找到了幾處我的妄心所在。
When I read the part about the Buddha questioning Ananda what caused him to totally disregard everything except following the Buddha and leaving the home-life, it made me reflect upon my own motivations for leaving my job behind and volunteering for DRBA, DRBU and DRBY.  I also began to question where my mind is located.  The Buddha pointed out that we cannot overcome the wearisome dust if we do not know where our mind is.
第一,就是看到我的心是在錢上,怎樣才能夠賺更多的錢?我如何投資我的錢?我每年應該要存多少錢?我要怎麼樣花錢去度假?我願意捐多少錢?我老了之後,我的錢要從哪裡來?所以這是第一處,我的心在那兒。
After some thought, I came up with several locations for my false mind.
1) I saw that my mind is on money.   How can I make more money?  Where should I invest my money?  How much money should I save each year?  Where should I spend money to have a great vacation?  How much money am I willing to donate?  Where will be the source of my money when I am old?  That's one location where my mind was at.
第二,我看到我這妄心是處在這社會所期待上。社會期待說:我應該有一個工作--從畢業到退休之間應該有一個工作。所以我這識心就每天很忙、忙、忙,忙著上班,然後想辦法怎麼樣克服科技上這些問題;下班開車回家還是在想,洗澡的時候也是在想,開車上班去的時候心裡也想,計劃這一天要怎麼辦,這心從來都沒有停過。而這個社會也同樣期待說:我應該有個事業,應該有生涯,所以我整天都規劃說怎麼樣做職業生涯……
2) I saw that my false mind is located in societal expectations.  I am expected to hold down a job from the time I graduate until I retire so my conscious mind toils away day after day to be an accountable and respected engineer.  My mind would think about how to overcome technical issues all day long, even after work when I'm driving home and often when I shower my mind would keep thinking about solutions.  When I'm driving to work in the morning, my mind would plan out the day in my head. The mind never stops!  The society also expects that I have a career so my mind plans out a career path and is constantly strategizing ways of getting to the end of that career path.
第三,我看到我的心是處在這文化的期待上。文化期待說:我現在應該結婚哪,應該有一個二、三十年的房子貸款啊……;如果沒有的話,我的心就擔心說:我是不是太老了,沒有辦法有家庭了?還是我跟不上別人了?或是永遠沒有辦法能夠擁有財產?
3) I saw that my mind is located in cultural expectations.  That I am suppose to be married and have a mortgage by now and if not, then my mind worries that I will be too old to have a family or that I am behind everyone else and may be priced out, and will never be able to become a property owner.
我又看到,我的心是處在我朋友的心上,當我想要做什麼事情的時候,我就會被朋友的心給影響。像如果我工作完後,想要去跑步,他們就問我:「哎!妳要不要去看電影啊?要不要陪我去看啊?」我就說:「好吧!就去看吧!」要不然他們就是邀請我去烤肉啊,或是參加生日party呀什麼的……。
4) I saw that my mind is located where my friends' minds are located.  Whenever I have ideas for doing something, I get influenced by ideas that my friends have.  For instance I wanted to go jogging after work, instead they say "hey, you wanna go to a movie? I want to go, would you go with me?"  So I would say "hmm… okay, I guess why not."  Or they would invite me to BBQ's, birthday parties, hiking trips, video game nights etc.
然後,我又看到我的心是處在我的習氣上。什麼習氣呢?就是享受這舒適的生活啊,不讓這個肉體受任何一點的苦啊,好好跟朋友去吃飯啊,去參觀世界各地不同美麗的地方啊……。這習氣就是總是要做最好的、最聰明的人;還有的習氣就是先把自己照顧好,然後再去照顧別人啊;習氣追求說,我想要追求什麼就做什麼……這樣子。
5) I saw that my mind is located where my habits are — habits of enjoying the comforts of life and not letting the physical body suffer for the least bit, having delicious, fancy meals, or visiting beautiful places in the world.  The habit of trying to stand out by being the best, the smartest one, and always ready to impress.  The habit of taking good care of myself before taking care of others.  The habit of pursuing whatever I want just because I can.
我又看到,我的心是處在這塵勞上,在這色、聲、香、味、觸。這眼、耳、鼻、舌、身總是有很多很多的能量(Energy)、能力,就是準備任何時刻跑出去外面,碰上這些物體……。
6) I also saw that my mind is located in the senses: sights, sounds, smells, taste, and touch.  The sense organs, eyes, ears, nose, tongue and body, are always charged, full of energy and ready to go out to meet whatever sense objects that come their way such as a new pair of good looking shoes that are comfortable or a new computer that's lighter, has more memory, and runs faster and more reliably.
為什麼我知道我這個心處在錢、社會、文化、期待、朋友、習氣跟塵勞上呢?它是屬於妄心,而不是屬於真心呢?因為離開了這些境界,它們並不存在。它們並沒有任何的體性或常住性,它們有時候存在,有時候不存在,沒有比這烏龜毛和兔角更真實。
Why do I know that the dwelling of my mind on money, societal and cultural expectations, friends, habits and senses belong to the false and not the real mind?  Because apart from the conditions that they exist in, they are mental shadows that do not have any substance or permanence.   They pass in and out of existence and are no more real than a turtle with hair or a rabbit with antlers.
但是我發覺:這些東西使我忙,忙了好多年。真是如佛陀所說的:「我們從生到死,眾生就是用這個妄心,導致我們反復地出入生死。」我只希望我慢慢能夠了解我的妄心在哪裡,然後我可以把我所知道的這個妄心放下。最終可以反妄心,、發掘我的常住真心。
However I realized that all these things had kept me busy day in and day out for so many years.  It truly is the case that to the end of our days we living beings make use of the false mind which causes us to enter birth and death repeatedly.  I only hope that by slowly leaving the only life and mind that I know of behind, I can eventually turn the tide of consciousness and uncover my true, everlasting mind.
時間到了,若有講不對的地方,請各位善知識批評指教!阿彌陀佛!
Time's up.  I welcome any corrections or thoughts to what I have said tonight. Amitabha